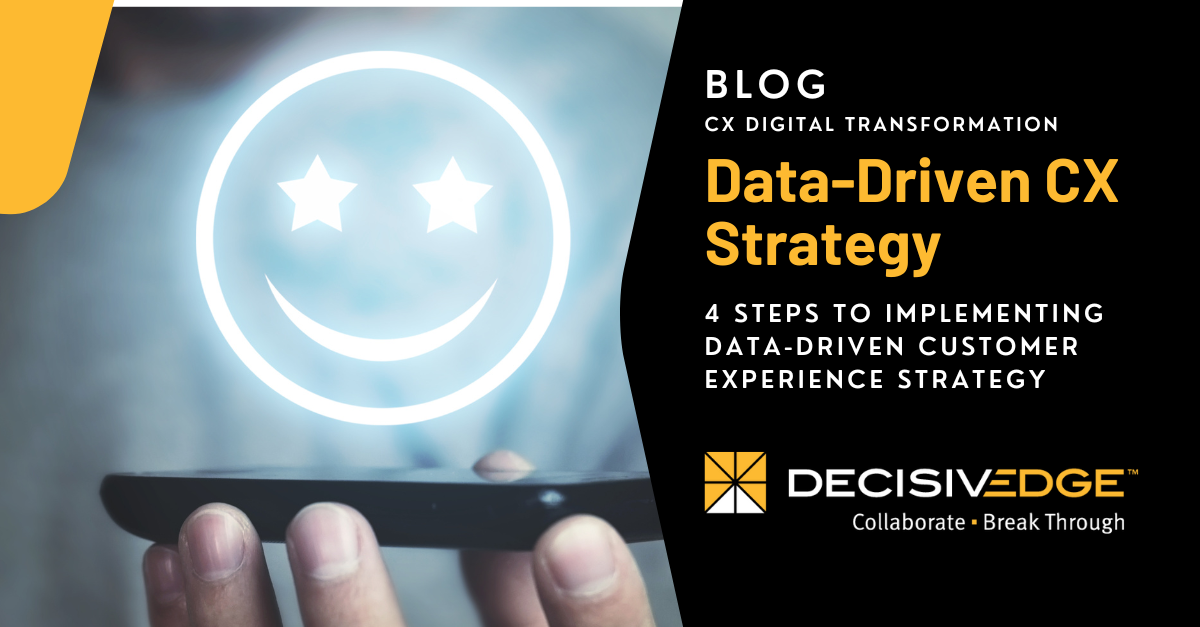 The digital age is rapidly transforming how companies and customers interact, and companies that don't keep up can find themselves at a competitive disadvantage. It's a matter of data maturity or the extent by which an organization is able to use its data to extract meaningful insights to drive decision making.
Data maturity is one of the best ways for businesses to stay ahead of the curve and experience greater success.
An inside look at data maturity best practices and need for Customer Experience Strategy
Studies show that highly data mature companies also experience significantly higher net revenue growth than their industry peers—45% compared to just 15%.
Embracing digital maturity can help ensure long-term success for your business, especially when it comes to the Customer Experience, providing insight into customer expectations and pain points. While no manual can help businesses to set up for success in digital transformation, successful enterprises are focusing on data—a path that can bring them closer to customers, their expectations, and their pain points.
Hilary Mason, data scientist and founder of Fast Forward Labs, once said, "Data is a tool for enhancing intuition" and is undeniably one of the most reliable assets that can benefit businesses in the longer run. Leveraging data, businesses can focus on curating more personalized experiences for their customers, which also plays a crucial role in providing compelling customer experiences.
Data is the cornerstone of a successful digital transformation & customer experience strategy.
According to a MicroStrategy 2020 study, 94% of business and enterprise analytics professionals noted that data and analytics are critical to their organization's digital transformation strategies. Having access to data is the essential enabler to identify the gaps in interacting with customers. And while we discuss data, it is crucial to understand that not just any data but actionable data is that missing ingredient you need to start meeting your customer's expectations.
Be it personalization, moving to the cloud, integrating multiple channels for contact centers, or even working on strategies for better agent experience—actionable data can help you deploy the right tools and campaigns for your business.
Having data and knowing how to put it into use are two very different strategies. While many focus primarily on just analytics, it is vital to understand other important aspects of data.
Here are four key steps to implementing successful data driven Customer Experience Strategy
Customer Data Accessibility

Data Collection and Consolidation

Business Intelligence for Data Analysis

A Data Governance Model
1. Customer data accessibility
Data access is crucial for improving the customer journey and is one of the crucial steps to building customer-centric strategies. To start pivoting toward data-driven strategies, businesses should first define the type of data vital for improving Customer Experience—and for developing effective strategies. The sales, marketing and business intelligence teams can all reap the benefits of this data, as it can help offer more personalized Customer Experiences.
Accessibility should be the primary focus when mapping a data-centric strategy. Defining the type of data used to improve the Customer Experience can be an important step in pivoting towards data driven Customer Experience Strategy. Aside from vetting staff members well to determine who will have access, data should be stored on customer data platforms. Such platforms help with better management of data collected via social media platforms, email marketing, and other stores.
2. Data collection and consolidation
Another vital step in implementing data driven customer experience strategy is data collection and data consolidation. Imagine going through several files only to find just a few lines worth of data. Sounds frustrating, right? When talking about data, it is crucial to understand that only meaningful data can offer valuable insights into the customer journey.
With data collection from an array of sources, it is essential to consolidate data into a central repository where businesses can clean, analyze and activate the data. Random data collection without consolidation or segmentation can lead to misuse or misunderstanding of data. The process of refining data that includes removing duplicate, incomplete and erroneous data is called data cleansing. It is a vital process of data preparation and management.
Data cleansing improves data quality significantly and aids Business Intelligence analysts in further processes. Simply stated, data consolidation is a vital part of implementing data driven customer experience strategy. Opting for reliable, clean, and consolidated data can ease the decision-making process for organizations. The struggle of finding what data is reliable or beneficial can be ended with the implementation of data consolidation.
3. Business intelligence for data analysis
Jay Baer, marketing and customer experience expert once stated, "We are surrounded by data, but starved for insights." It's a common problem. While organizations today spend millions of dollars on data collection, deriving actionable insights to improve the Customer Experience in a timely manner is essential. Business Intelligence (BI) tools and data engineers can leverage this data to get a holistic view of the customer journey.
Several BI tools also help measure industry sentiment based on products or demographics, in order to identify areas for improving feedback. Different data types such as behavioral, engagement, and attitudinal data can give valuable insights into the Customer Experience. Since Business Intelligence solutions can help with omnichannel insights, this data can be crucial. In other words, organizations can sift through market assessments and pain points to improve Customer Experience.
Implementation of data analytics can lower customer acquisition costs and improve Customer Experience, as it analyzes and provides a deeper understanding of the factors affecting CX. It also provides insights for market assessment, competitor analysis, and trends that can be further leveraged to improve customer interactions, marketing strategies, and even the brand's approach.
4. A data governance model
A governance model is a must for organizations that are collecting customer data to improve processes, services, and products. Establishing a data governance model comes with a framework that gives detailed outlines of the processes implemented for data collection, data creation, data storage, maintenance, and data disposal.
Customers are much more likely to trust the businesses and organizations controlling their data publication. Organizations should assess information privacy and security to comply with data protection. Regulations such as General Data Regulation (GDPR) and California Consumer Privacy Act (CCPA) should be considered when deciding the governance model for data.
While data remains at the core of crafting impressive Customer Experience strategies, formalizing stringent policies for its accessibility and its storage should be a top priority. For example, ensuring that only authorized personnel can access data, and that collected data is stored securely.
The science and practice of data maturity as a business function is continually advancing
Data science practitioners, such as DecisivEdge, can help your business use customer data to drive the Customer Experience. To help organizations and businesses improve customer interactions, we offer end-to-end CX transformation solutions, including Contact Solutions, CRM Solutions, Data & Analytics, Workforce management, and more.
Our experts help you craft impressive Customer Experiences, leveraging customer experience data. Using data-driven strategies, our team enables you to increase customer satisfaction, lower the costs of customer acquisition, and boost customer loyalty.