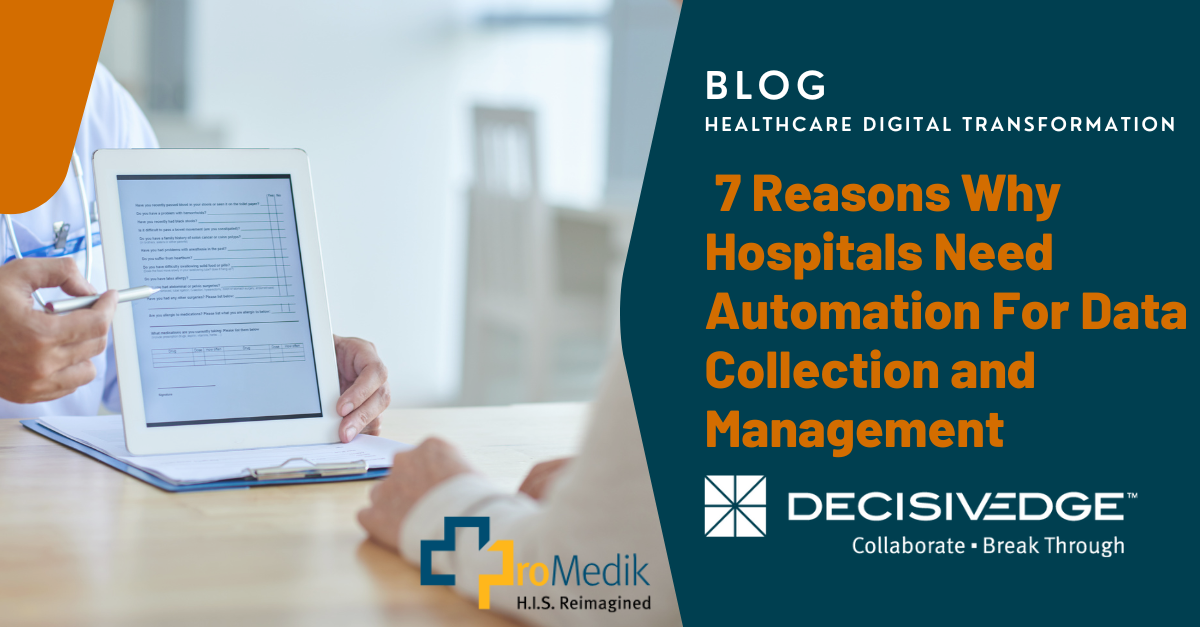 There is a lot of buzz around the word "automation" and how it is here to transform the way we live, ideate, and execute. While automation has been around since the 1960s, it keeps on evolving, improving and becoming more efficient. And while automation is revolutionizing various sectors, it is a critical tool for the healthcare industry. 
What Does Automation Mean in Healthcare?
Healthcare today heavily relies on manual processes performed by medical teams. These processes include  everything from data collection (personal information, medical history) to requisition forms to patient discharge.  Automation can efficiently improve the processes by reducing the reliance on manual work, thus improving data accuracy, streamlining efforts  and placing more of a focus on patient care.   
Automation will also help reduce the burden on medical teams. 69% of medical staff reported that they are stressed by their jobs while 17% reported extreme burnout. These numbers are alarming and of great concern. Several reasons for stress and burnout are the unstructured nature of workflow and management in hospitals in regards to medical staff.  Automations can help improve both clinician, medical team and patient experiences.
Hospitals today have several tools available at their disposal for automating different procedures for their staff. For instance, hospitals can opt for automated EMRs or automated billing to solve problems related to these particular procedures.  Offering effective solutions such as an integrated hospital system can help in tapping into all the touchpoints for the patient journey. Such software can be an excellent tool to implement automation at various touchpoints of the patient journey to improve the patient satisfaction rate and their experience. 
When you combine the right set of software solutions with automation tools, all the time-consuming tasks such as data collection, insurance verification, and coding will take significantly less time compared to doing them manually. By automating steps, from eligibility checks and payment follow-ups to data charge entry, you can expedite the entire process. And when you streamline tasks, you become more efficient and effective as you provide a more straightforward system to your administrative staff and fellow physicians.
Read on to learn the top 7 benefits of hospital automation.
1. Data Collection, Accessibility and Security
One of the most time-intensive and complex processes for medical staff is to collect, access and manage  data in real-time.   Automation begins with proper set up of Electronic Medical Records or EMR. These records can be created and accessed easily and securely. Integrated software such as a Hospital Information Software (HIS) can aid staff with automated data collection to avoid redundancies, errors and inaccuracies.
Besides cutting down the time needed for finding the records, automation can help with securely storing this data in one central place which can be easily accessible at any given point. Some software offers automated data collection for hospitals, which can be a good start for  adapting automation in their operations and management. However, opting for a HIS can benefit the staff as it offers several other advantages such as centralized storage of data, integration of data with tests, reports and patient details.
2. Help with Appointment Scheduling
Automated appointment scheduling software can be an effective way to facilitate quick scheduling. Ditching the old method of traditional scheduling, which involves calling the staff at the hospital for scheduling appointments can be time-consuming for both patients and staff. Besides the hassle of making an appointment, it also becomes challenging for medical staff to keep a tab on the appointments booked, availability of doctors, canceled appointments, no-shows, and more. All of these issues related to appointment scheduling can cause delays and affect the overall operational efficiency of the staff.
Instead of relying on manual processes, hospitals can opt for automated appointment scheduling solutions or software. Some Hospital Information Systems (HIS) offer a variety of out-reach solutions that can help patients schedule an appointment depending on the availability of doctors, empty spots for appointments, cancellations, and more. Patients can provide contact information, the purpose of their visit, and look for the availability of the appointments in real-time. Some HIS  also offer  the added feature of sending alerts or notifications to patients via Email or SMS as appointment reminders. Automation can help with better patient appointment management which can be a win-win for both staff and patients. 
3. Clinical Capacity Management
Hospitals often struggle with long patient wait times for appointments or admissions. Fluctuating  inbound patient flow makes it difficult for hospitals to manage resources and workflows.  Hospital Information Systems (HIS) offer clinical capacity management modules that include   real-time tracking of the available appointment slots, available beds, doctor availability, and expected wait times.   Managing the flow of patients and better implementation of resources provides better transparency and better manages the expectations of patients, medical staff and physicians.
4. Error-free and Seamless Billing Processes
It is correctly stated that "To err is human", and although it is understandable that manual billing can be error-prone and inaccurate, sometimes these errors can lead to tremendous issues with billing and other formalities that a patient needs to complete before discharge. According to reports published by the National Center of Biotechnology Information, "about 400,000 hospital patients experience some type of preventable harm each year", at the cost of medical errors that range between $4-$20 billion annually. 
Common mistakes such as errors, missing information, and duplication can be avoided by opting for Hospital Information Systems that offer  an automated billing option. Leveraging automation for medical billing and medical insurance claims can cut down the time needed to work on billing the patients correctly. 
5. Improved Revenue Cycle Management
Automation can significantly improve revenue cycle management (RCM) for hospitals. It can aid by streamlining several tasks of this cycle that include data collection, follow-ups for payment, verifying insurance claims, faster payment collection, and reducing overhead administrative costs.
Some Hospital Information Systems offer  automation for RCM which can help with effectively track pending payments, upcoming payments, collections, and patient reimbursements with great ease.
6. Data Analysis and Customized Reports Increase Efficiency
Data is critical in today's hospital operations.  Automation can elevate the quality of data through collection and predictive analysis.  Some Hospital Information Systems can capture  average traffic, department records, availability of medical staff across the different departments and more can help with understanding areas of strength, areas of improvement, and overall analytics for the hospital.
Data analytics can help with understanding operational insights to reduce patient waiting time and increase the overall efficiency of the staff. An automated platform that integrates all the data and hospital processes in one place can benefit to analyze the data and get customized reports. This data can is invaluable for working on the areas of improvement, fast-tracking processes, identifying causes of inefficiencies, and more. Opting for software equipped with this feature can help hospitals improve patient experience along with improving revenue, efficiency, and management.
7. Better Patient Experience for ensuring higher satisfaction rate
Healthcare professionals always try to offer the best facilities, care, and treatment to patients. While they work tirelessly to make a patient's stay comfortable at hospitals, several other factors impact the choice of patients for hospitals.
Automation in healthcare can improve communication, reduce the chance of errors, reduce waiting times, improve the workflow of medical staff, and much more. All these advantages benefit patients as they do not have to worry about delays, missing appointments, treatments, and other processes at the hospital. Arming medical staff with automation can help them focus more on patients and their well-being. 
Can HIS be the ideal automation tool for hospitals?
A Hospital Information Systems (HIS)  is one of the most versatile automation tools for healthcare and hospitals, as it integrates all the processes of the hospital and provides a centralized platform to get real-time updates on the data. It also contributes to improving communication between doctors, medical staff, and patients. A modern HIS can serve as a powerful tool that can help in bringing all the aspects and processes of healthcare into one place that is accessible, secure, and easy to understand. Although several individual software and tools exist that are available for hospitals such as EMRs, billing software, or Self Scheduling platforms, HIS is one of the few comprehensive solutions for hospitals and healthcare institutes that offers automated processes for patient registration, transfers, drug dispensation, medical billing and patient experience.
ProMedik: an ideal HIS available for hospitals across India
ProMedik is one of the most versatile and comprehensive hospital information systems available in India. It offers end-to-end functions for automating several aspects of hospital operations that include administration, improved communication, and a centralized platform for storing as well managing all the data related to patient journey, finances, and other such important documents. Ruby Hall Hospital in Pune has successfully increased the overall efficiency of medical staff in the hospital by adopting ProMedik.
To know more about ProMedik and its configurable modules, reach out to us for a free demo today.