Time to truly put the voice in the "Voice of the Customer"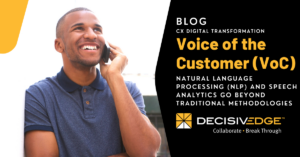 There are thousands of meaningful pieces of information initiated from customers every day –  yet most of the traditional voice of the customer (VOC) satisfaction surveys and Net Promoter Scores touch on a small fraction of this valuable input.
The McKinsey Quarterly Prediction: The Future of CX report found that while 93% of Customer Experience (CX) executives surveyed used traditional VoC surveys,  only 16% believed the info helped to address the root causes of performance.
The challenge with addressing issues is limited data. In fact, around 95% of customer data comes in the form of unstructured data such as email, chat sessions, texts and voice. Therefore, a true view of a customer's experience will come from the ability to access and analyze data in its many forms, a task that can seem complex, costly and time-consuming.
We need to call out that traditional methods – Net Promoter Scores (NPS) and surveys aren't a single source of truth –  and  that's where Natural Language Processing (NLP) and speech analytics comes into play—and here's how you can apply it.
Extracting Customer Sentiment to Hear Voice of the Customer (VoC)
Natural Language Processing or NLP is a field of computer science that applies linguistic and statistical algorithms to text to extract meaning from human language. In essence, these algorithms determine the sentiment of the customer's written and verbal words.
According to Statista, "the NLP market is predicted to be almost 14 times larger in 2025 than it was in 2017, increasing from around three billion U.S. dollars in 2017 to over 43 billion in 2025", a great bottom line argument for NLP.
Sentiment analysis evaluates customer messages, call center interactions, online reviews, social media posts, and other content. It's a form of analysis that can track changes in attitudes towards companies, products, or services, or individual features of those products or services.
Gartner's recent press release predicts that by 2025, 60% of organizations with voice of the customer (VoC) programs will supplement traditional surveys by analyzing voice and text interactions with customers.
Understanding a customer's choice of words and inflection, "sentiment", can help an agent decide the best course of action and help "manage" the call with the proper tone and tactics. The following case study provides some insights into how NLP works under real conditions.
CX Solutions Delivering Emotionally Beneficial Experiences to Customers
A healthcare provider sought to improve its patients experiences while also increasing the efficiency of call center operations. The idea was to transition away from traditional keypad driven (DTMF) interactive voice response (IVR) technology, which was impersonal and often frustrating to customers who typically needed to discuss disputes or complex issues.
The provider's existing IVR-driven "press 1/press 2" approach was off brand and didn't offer patients the warm, supportive service experience that the provider desired.
The healthcare provider wanted a Customer Experience (CX) solution that delivers emotionally beneficial experiences for clients and helps treatment advisors.
DecisivEdge was brought in to develop and implement a CX strategy that would provide routing and self-service options for common service intents for patients who were already scheduled for admission or post-treatment. The goal was to reduce wait times and abandon rates for potential patients who were seeking treatment for the first time.
The DecisivEdge team reimagined the provider's CX solution with an intelligent, natural language understanding (NLU) IVR powered by machine learning built around Five9's Intelligent Virtual Agent (IVA) cloud contact center. One of the biggest benefits of the Five9 cloud contact solution has been the ability to route conversations over voice as well as unstructured systems such as video, messaging (chat, SMS, social), and email.
There are quite a few studies that find the value in emotionally beneficial experiences for customers. According to Forbes, there is an 84% increase in revenue for businesses that focus on improving Customer Experience. Apparently there is a correlation between emotionally beneficial experiences and a company's success. Also cited in the same article, 83% of companies that believe it's important to make customers happy also experience growing revenue.
CX Transformation Solutions and the Data Gathering Process: A Phased Approach
The development and implementation of an NLU IVR-powered customer solution requires data gathering.
For instance, in the healthcare case referenced above, the first phase focused on gathering keywords and identifying caller intentions. In this case, over 10,000 caller utterances were analyzed through the AI-based software.
The second phase focused on building caller experiences according to data gathered in the first phase. The team identified the top reasons for calling and then built the top intents and self-service use cases into natural language intents in the IVA engine. Of note, the option to ask for a live person right away is also built for those callers who are not yet ready to speak to an IVA. In this case, callers are redirected to the familiar menu.
Further, the DecisivEdge team worked closely with the healthcare provider to define and map out the new call flows as well as to write and utilize text-to-speech (TTS) to build all caller prompts. Each intent went through a rigorous quality assurance and user acceptance testing (UAT) process. The UAT is particularly important because this is where the test team evaluates everything that might go wrong, often with the help of end users, in this case, treatment advisors.
One note of advice, once all test cases are successfully passed, deployment of any new system should be done when call volume is light to ensure a smooth transition.
Based on figures from SEMrush, the forecasted annual growth rate of AI between 2020 and 2027 is 33.2%. Gartner is in agreement with this prediction, foreseeing that AI software will reach $62 billion in 2022 alone, a jaw-dropping increase of 21.3% from 2021.
Fast-Tracked Results with Voice of Customer
The time to develop and deploy a modern VoC is often noted as a concern by business owners looking to update VoC practices.
Technology advancements along with experience and collaborative relationships with groups such as Five9, have greatly improved the process. For instance, it took less than four weeks for the DecisivEdge CX team to design, build, test, and deploy the healthcare provider's IVA CX solution.
We continue to provide on-going monitoring to ensure the IVA is performing as expected for the above-mentioned healthcare provider, and conduct on-going analysis to identify the next set of intents to pursue. Fine-tuning the IVA and training it to identify tangent utterances is an on-going process and one that gets better as time presses on.
The client subsequently engaged DecisivEdge to enhance the process to add more variables to capture data from the patients, such as in which state they are looking for services.
Since implementing the NLU IVR-powered customer interaction system, the healthcare provider has seen significantly improved Customer Experience numbers, including reduced wait times and abandon rates, as well as improved quality scores.
DecisivEdge can help you on your journey to enhance your VoC surveys with an intelligent, NLU IVR powered by machine learning. It's relatively fast to deploy, effective in measuring root causes of discontent, and provides a true measure of your customer experience.
Take the Next Step in Your Digital Transformation Journey
DecisivEdge is a global business consulting and technology services firm focused on creating a sustainable, competitive edge for any business through digital transformations. We are technology agnostic and solution specific. We help partners like Five9 and our respective clients explore opportunities to fully optimize best-in-class technology solutions, in conjunction with analytics and data-driven operational strategies, and then work hands-on with implementation to provide real-life end-to-end solutions.
Read about our recent Five9 collaboration for a behavioral health care contact center in this case study.
We are knowledge leaders with deep industry experience. Our clients benefit from our unique ideas, knowledge of industry best practices and our ability to develop creative solutions to overcome their highest priority business and technology challenges.
Our collaborative approach is designed to really understand our clients' business objectives, and then deploy a seasoned solution delivery team to get the job done right the first time.