The Future is Data Driven
Financial Services companies, leveraging advances in banking technology, from core platforms to online banking to mobile banking to back office automation, coupled with the drastic improvements in data storage and information processing technologies are creating an unprecedented amount of transactional data. This collection of data includes traditional structured transaction data from banking systems as well as unstructured "interaction" based data from online, mobile, social media channels and even speech to text transcriptions of contact center conversations.
Large banks have highly evolved data management and advanced analytic processes to drive results across a multitude of critical strategic fronts. Coupled with huge economies of scale and impressive investments in technology, these banks have the ability to process ever increasing amounts of data and are leveraging their information assets to gain insights and deliver strong results in highly strategic activities including:
Improving lending decisions
Understanding consumer behavior and trends and tailoring offers and services based on preference
Deepening customer relationships
Decreasing customer acquisition expense
Decreasing fraud
Delivering a differentiated customer service experience
Reducing loan losses
Improving customer retention
Ensuring compliance with regulatory reporting
Standardization of financial and operational reporting
While some regional, local and community banks have made modest investments in reporting and analytics, in order to compete and thrive in today's competitive banking market and sluggish economic environment, they need to do more to harness the power of the data that they already create.
Success Factors in Data Management Programs

Data Management is the complete set of activities relating to the creation and maintenance of data structures and architectures along with the usage, governance, policies, procedures, roadmaps and protection of an organization's data assets. A data warehouse is one of the key components of a data management program and is a comprehensive and integrated collection of transactional information specifically structured to support the management decision making process and perform structured as well as ad hoc analyses of business information.
One would expect that with the prevalence of data warehouses in Financial Services they would be easy to design and deploy.  However, this is not the case.  The landscape is littered with data warehouse efforts that have gone awry.  According to Gartner, 50% of data warehouse projects are either outright failures or have limited acceptance.  Given this, it is important to understand what successful data warehouse initiatives have in common.  Regardless of the size of the bank or the products offered, the transformation of an organization to a data driven enterprise should follow the structured processes pioneered by large banks and leverage the learnings from their successes and failures. Before discussing an approach to designing and developing a data warehouse, it is important to understand and acknowledge the key characteristics of successful data management initiatives:
Strong corporate sponsorship and support – the transformation to a data driven organization is a fundamental shift that requires strong and sustained sponsorship at the highest levels in the organization.
Corporate vision – a clear vision of the "questions to be answered", "decisions to be supported" and "results to be achieved" at each evolution of the initiative.
Stability of source applications – since a data warehouse is fed by operational systems it is important that these operational systems are relatively stable and free of data integrity issues.
Data architecture – a consistent enterprise data architecture and tool set should be deployed to ensure appropriate integration as the scope of the data managed and consumed is increased.
Long-term thinking – a data warehouse initiative is not and should not be treated as an isolated project.
Creating a data driven enterprise is a fundamental shift in business approach and implementing an integrated data management program is the foundation. To fully maximize the value of an organization's data assets, the  entire data management program needs to be maintained and continue to evolve and adapt to meet the organization's strategic priorities.
ROI focused and prioritized approach – it is easy to get overwhelmed, so it is imperative to start out small, achieve early success and continually evolve both in terms of scope of data managed as well as use of the data in the decision making process.
Stewardship and governance – making decisions based on bad data is much worse than making gut decisions. Ensuring that data definitions are consistent, the data is accurate and delivered in a timely manner is important to gaining the trust of the user community.  Implementing clearly defined policies and procedures governing the ownership of data definitions, handling of data quality issues and usage in business decision making.
Integration into operational systems – when a data management initiative delivers insights, it is important to understand that some investment may be required to allow operational systems to consume and act on those insights.
Framework for Designing and Implementing a Successful Data Management Program

Given the scope and significance of data management initiatives, a staged approach with defined checkpoints ensures both coordination with stakeholders as well as alignment with business objectives.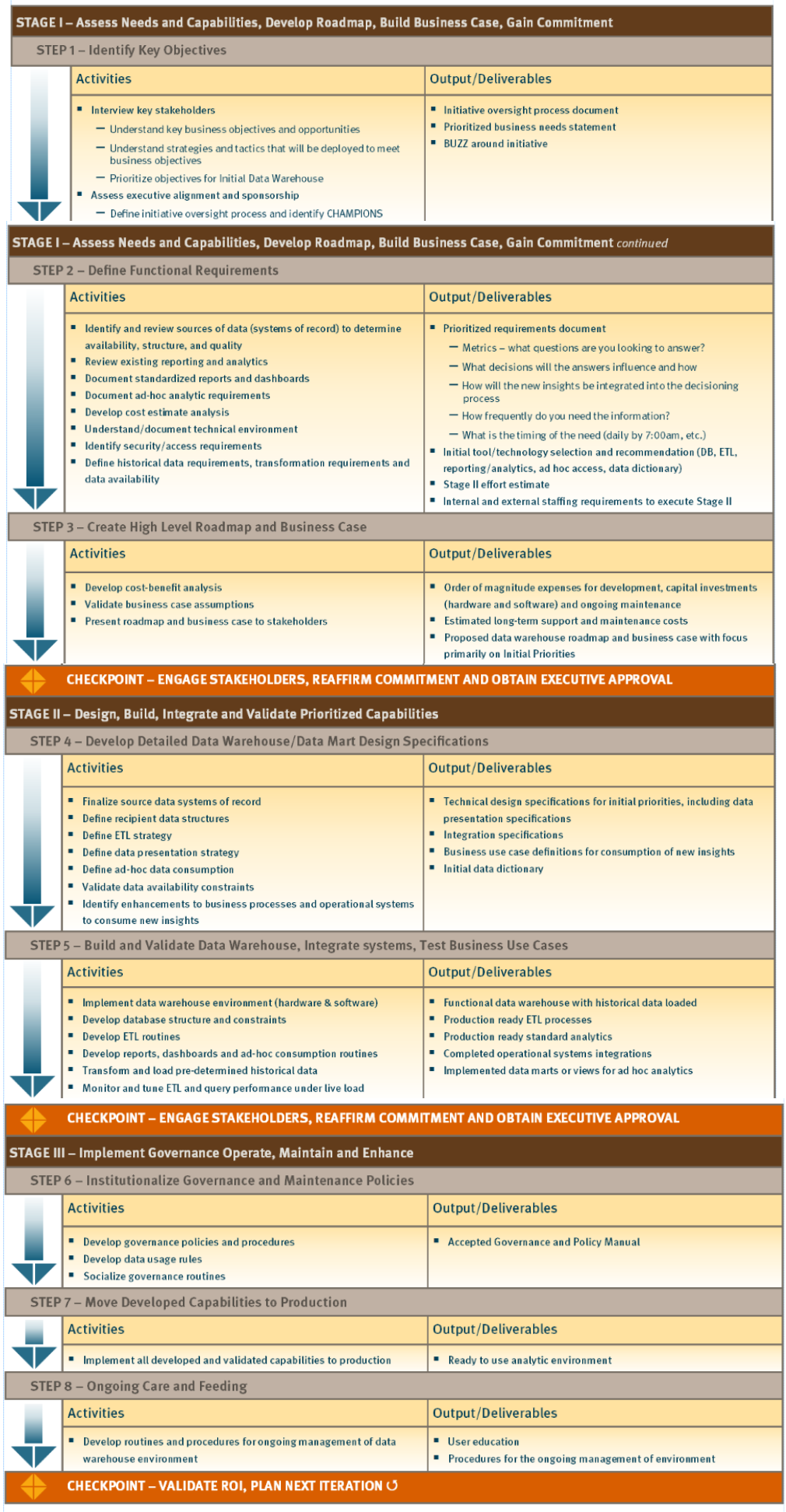 The time to Assess and Execute Your Data Management Priorities is NOW

Whether you are looking to create a new data management program or take your existing program to the next level of value, data management initiatives typically have a long maturity cycle. While data management and data warehousing involve technical activities, setting up a successful program should largely be driven by business executives and executed by resources who understand and appreciate both the business and technology.