Make the moments of truth, the moments that matter.
Admitting that you or a loved one has a problem is hard and emotional. When it matters most, time is of the essence. Those in need are often hesitant to seek treatment because of the fear of the expense, unsure how to start the process, employment security, etc. The admission process needs to be easy, straightforward, and efficient to prevent potential drop-outs. Admission agents are on the front line and are often the first voice in the patient treatment experience. They need the process and tools to aid them in their desire to save more lives.
DecisivEdge helps behavioral healthcare providers reduce operating expenses, increase staff retention, improve admission rates, drive a better patient and agent experience, and save more lives. By doing so we not only enhance the experience, we add value to the bottom line. This is of particular value to those organizations backed by private equity firms. Our team has deep, real-life expertise with managing contact centers and operations for Fortune 100 companies, and private equity-backed turnarounds. We understand contact center challenges and post-merger integrations because we have experienced them.
Reduce OpEx, improve staff retention, and streamline the admissions process.
Behavioral health organizations face increasing economic and business environment pressures, making patient acquisition more challenging than ever before. There are a lot of moving parts that have to sequentially work together in order to help a patient come through the front door of the treatment center. The end goal is ensuring that admission agents are available, helping those needing treatment get the help they need with great expediency.
DecisivEdge engages with treatment centers to enhance the effectiveness and efficiency of your admissions process for a better client, agent and brand experience. We help behavioral health organizations streamline the admissions process, maximize bed occupancy, and provide a world-class patient experience. We can help improve revenue per call, revenue per agent and reduce cost per admission.
If your organization is experiencing any of these challenges we can help:
Low inbound conversion rates.

Admission teams face high volumes of non-admission related calls, and when combined with a lack of basic call routing, the process becomes more transactional, increasingly dispassionate and may take multiple calls in order to admit.
Limited integrations in the admission agent's desktop

. Agents often use multiple systems to handle daily prospect interactions – creating "swivel chair" – leading to a fragmented experience. EMR integrations are also often limited – either to one direction or with great latency – limiting the view into the user relationship/journey.
Ineffective, manual workflows.

Integration gaps often result in duplicate keying of information, causing frustration and errors. Key processes like benefits verification, personal financial responsibility calculations and assessment questionnaires are generally clunky. A lack of automation has downstream impact, increasing new hire onboarding.
Data is not patient centric.

Data and operational silos create limited visibility into the entire patient relationship, leaving a patient feeling detached. Quality monitoring is manual and inconsistent.
Cumbersome transportation administration.

Treatment centers with a transportation department often face admission scheduling problems. From limited driver communication, to manual or non-system integrated scheduling, to confirmation pick ups requiring a second call, many centers do not allow for optimization or have limited reporting.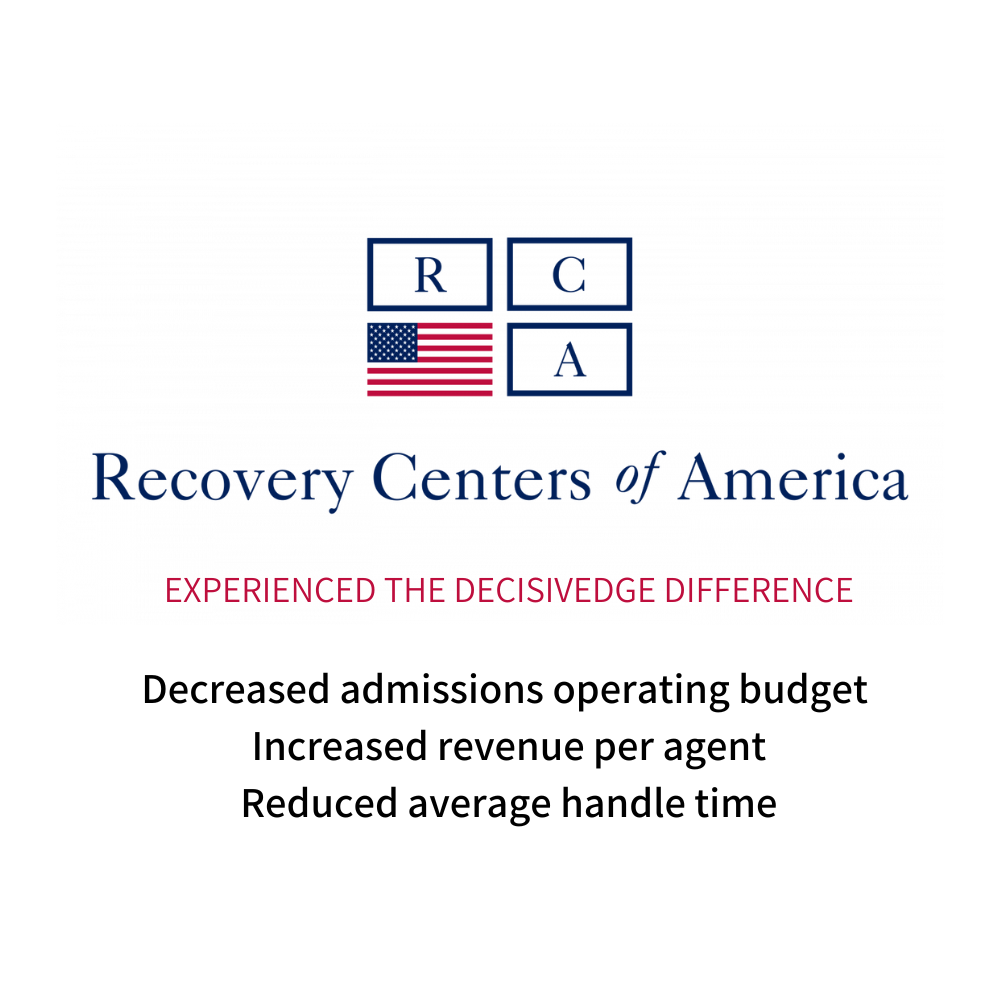 Whether you are a behavioral health organization trying to integrate and optimize existing legacy contact center solutions, or looking to tap into Contact Center Artificial Intelligence (CCAI) solutions to better serve patients, DecisivEdge has the experience, expertise and global partners like Five9, Call Tracking Metrics and Salesforce that can help you get there.
The results? Our client Recovery Centers of America experienced:
Decreased admissions operating budget by nearly 50%

Increased revenue per agent

Reduced average handle time (talk time)
Efficiency. Effectiveness. Engagement. We delivered.
Connect with us to discuss leveraging contact center artificial intelligence technologies to offer self-service options, deflect non-urgent contacts, and better understand the voice of the patient.
Still undecided? Take a deeper look at some of our recent work…
CASE STUDY: DecisivEdge has extensive experience with integrating contact center solutions with the Salesforce platform. Learn how our UI/UX improvements transformed a Salesforce interface and helped reset a call center to streamline patient admissions and reduce call center disorder.