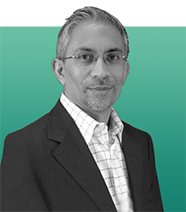 Newark, Delaware (May 1, 2016) – DecisivEdge, LLC, a leading business consulting and technology services company is pleased to announce that Sukumar Narayanan will assume the role of President, responsible for global operations and strategic partnerships.
In his new role Sukumar will work with delivery teams in the US, India and Canada to ensure that all projects are appropriately staffed and are delivered to plan. He will also be responsible for initiating, incubating and mainstreaming strategic partnerships that further the firms' offerings and capabilities.
"While we have a very talented global team, strategically expanding our capabilities and ensuring consistent excellence in service delivery is critical to our long term success," said Sukumar Narayanan. "I am looking forward to working with our partners and our delivery and talent acquisition teams to continue to collectively deliver exceptional results to our customers," said Narayanan.
"Delivering strong value continues to be our highest priority.  As our company continues to scale rapidly, I am confident that Sukumar's leadership is exactly what we need to ensure our long term success," said Navroze Eduljee, Founder and CEO of DecisivEdge.