Lending & Leasing as a Service (LLaaS)
LLaaS is a cloud-based origination, servicing, and collections platform designed specifically for small & medium sized lenders. Feature rich, flexible, and easy to implement, LLaaS is a perfect fit for direct and indirect lenders who offer their customers loans, leases and/or lines of credit. The platform is used by auto lenders, equipment finance companies, credit unions, alternative finance and small business lenders.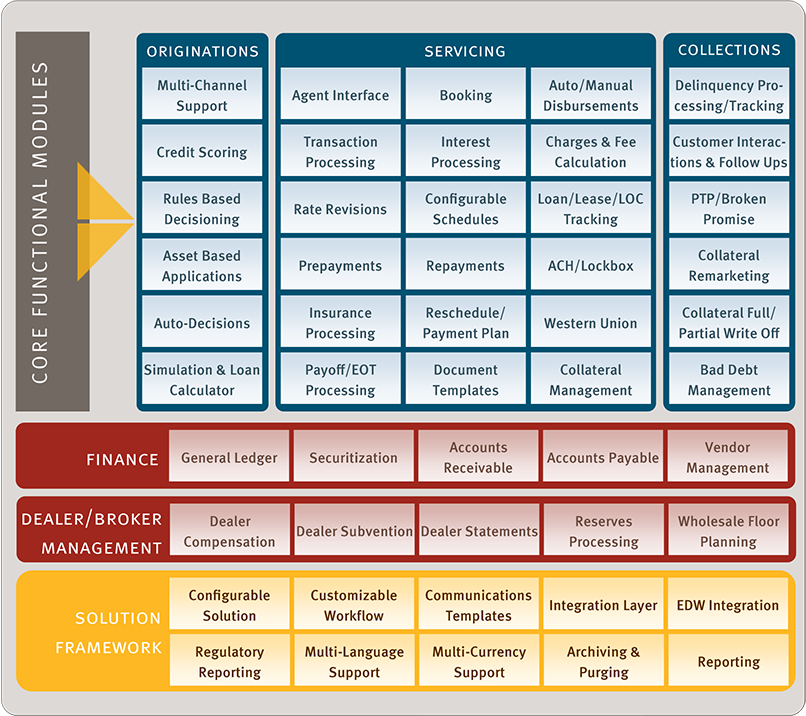 Take a deeper dive into LLaaS by viewing the data sheet directly below.
---
Comprehensive Loan, Lease, Line of Credit Software
Built on configurable processes for the complete lending lifecycle, including origination, servicing, collections and asset management
Predefined finance processes with global best practices optimizing the customer experience
Robust business rules engine for each business process adhering to the financial institution's internal practices and policies
Increase productivity with automated processes and transactions
Improve customer experience with end-to-end capabilities in a single lending software platform
Drive business growth with quick and easy launch of new products
Deepen customer relationships by enabling employees to make timely decisions
Enable comprehensive data capture for risk management and compliance
Facilitate state and federal compliance through a purpose-built platform

---
Loan Origination Software
Allows lenders to accept, process and decision credit applications in a paperless mode
Delivers quick credit scoring and automated decision making
Provisions configurable credit guidelines to ensure regulatory compliance
Supports flexible workflow management for each stage in the lender's underwriting processes
Provides robust pricing strategies to drive market share and profitability
Simply the best loan origination software on the market
For a deeper dive into the specific Loan Origination Software features and capabilities including a brief video, scroll towards the bottom of this page.
---
Loan Servicing Software
Allows the lender to manage all customer information in a centralized location
Simplifies the customer service and management processes with a single source of truth
Manages unified customer record with a common customer relationship view across products
Supports a comprehensive transaction engine to process automated transactions
Enhances better customer service and resolves customer requests
Simply the best loan servicing software on the market
For a deeper dive into the specific Loan Servicing Software features and capabilities including a brief video, scroll towards the bottom of this page.
---
Loan Collections Software
Provides comprehensive functionality to support specialized collection-related activities
Tracks all occurrences and related histories associated with specialty collection activities
Allows 360° customer view with details to credit and repayment history with the lender
Allows detailed history of customer contacts, promises-to-pay and follow ups
Simply the best loan collections software on the market
For a deeper dive into the specific Loan Collections Software features and capabilities including a brief video, scroll towards the bottom of this page.
---
Enhanced User Experience
Self-service options for consumers
Support for third-party interfaces
Seamless transition across channels
Compatibility with credit bureau agencies, asset valuation guides and credit card payment interfaces
Paperless workflow with dynamic work queues that can be tracked, analyzed and audited
---
State of the Art Technology
Service-oriented architecture (SOA) with a browser-based user interface
A back-end relational database, with a middle tier of business components.
Provides a high level of configurability by using open standards-based middleware.
Brings together a robust technology platform and extensive experience in the industry
Supports your business with predefined processes that represent industry best-demonstrated practices.
---
Flexibility of Deployment
Choose between a cloud or on premise deployment
Cloud offering built on a highly elastic, simple and secure cloud platform
Designed specifically for lending and leasing businesses
Supports seamless data file integration optimizing performance
---
Lending & Leasing Software for the following :

Auto
Powersports l
Equipment
Commercial
Consumer
Solar
Retail
Mobile handset
Residential and commercial HVAC
Third-Party Loan Servicing
Fixed and Revolving Lines of Credit
Factoring
---
Loan Origination Module – Deep Dive
OFSLL's Origination Module allows financial institutions to accept, process and decision credit applications in a paperless mode, with a single data entry process. All of these applications are controlled by a flexible workflow management system that can be configured to reflect the step in the company's underwriting processes. As part of the origination process, OFSLL provides the lending institution the ability to configure and change the workflow, plus add pricing strategies, user responsibilities and administrative override parameters.
Key Features:
Receipt of applications through multiple channels such as the web or fax
Submit and receive credit bureau information online
Automatic parsing of the credit bureau information directly into the application
Calculation of user-defined credit scores with an internal score card, using a weighted average on criteria from both the application and the credit bureau data
Make credit decisions automatically or manually
Generate automatic default stipulations
Capability to re-score each applicant separately
Setup user-defined credit application tracking attributes
Interface with multiple collateral asset valuation guides and VIN checks, plus VIN check digit
Support single premium insurance and force placed insurance
Allow promotions, such as reduced rate or no interest for a period of time
Provide completion checklists to user enhance processing and reduce training
Automatically transmit decisions back to the dealer, originator or applicant
Determine the top four rejection reasons for adverse action processing compliance
Link applicants to existing customers to maintain & maximize the customer relationship
Link the origination data to funding processes and the servicing module in real time
Monitor the decision flow online throughout the origination process
Process checks through an external Accounts Payable system or send Automated Clearing House (ACH) payment(s) directly from the system
Define multiple scorecards for a product and designate one or more for auto-decisioning
Build a customized underwriting workflow based on user-configurable parameters for a paperless flow of information
Setup customizable credit guidelines within the system to ensure compliance
Upload scanned documents to an application
Generate reports on applications based on status, dealer, user or underwriter
Trigger "actions" based upon certain transaction events, such as status changes
CHECK OUT OUR LATEST VIDEO TO SEE THE  POWER OF THE BEST LOAN ORIGINATION SOFTWARE YOU CAN BUY
---
Loan Servicing Module – Deep Dive
OFSLL's Servicing Module allows the financial institution to manage all customer information in a centralized location to assure data integrity and to simplify the customer service and management processes. A unified customer record always ensures that the entire relationship is always visible, allowing the institution to provide better customer service, resolve queries and improve service personnel productivity.
Additionally, OFSLL's Servicing Module provides customer service personnel with all customer account information for the duration of the customer relationship. The customer service screens provide real-time information about the customers, account balances, amounts due, transaction data, call activities and comments. The powerful ad-hoc search capability provided allows real-time searching for accounts.
Key Features:
Supports a transaction authorization (Maker-Checker concept) for manual transactions only, such as monetary (except payments) and non-monetary transactions
Performs interest calculations using different methods such as simple interest (including daily), actuarial, Rule of 78ths's and average daily balance
Allows suspension of interest accruals on accounts
Calculate minimum due amounts based upon a variety of criteria
Process one-time and recurring ACH payments
Maintain the allocation of payments between principal, interest, fees, and expenses
Perform changes on specific payments that have already been posted
View the entire transaction / payment history of any account online in real time
Perform tax and insurance escrow processing for loans
Backdate account transaction activity as needed
Determine the day interest accrual starts
Maintain, track and monitor account insurance and collateral / asset information
Track insurance and warranty claims
Change customer due dates
Process loan promotions, such as reduced rate, no payment and interest or same as cash
Grant and process extensions (or deferments)
Perform payoff (or prepayment) quotes and maintain a history of all quotes provided
Generate payment receipt (in a licensed deployment only)
Waive or reverse any fees and expenses that have been incurred
Interchangeably place accounts in and out of 'non-performing' status
Charge-off accounts
Create and perform maintenance on multiple fee types and fee rules
Establish and track information in unique user-defined data fields
Attach scanned documents to an account
Trigger events that will perform the associated actions when an account moves from one status or sub-status to another
Maintenance of user-defined account conditions
Process statements on a cyclical basis and send the data electronically to a printing or fulfillment vendor
Create and maintain custom messages within the billing statements
Provide a General Ledger (GL) batch handoff to an external system
Generate operational reports on transactions, balances and statuses & other data
Charge periodic maintenance fees for loan servicing
CHECK OUT OUR LATEST VIDEO TO SEE THE  POWER OF THE BEST LOAN SERVICING SOFTWARE YOU CAN BUY
---
Loan Collections Module – Deep Dive
OFSLL's Collections Module offers a full-featured Lending/Leasing suite of capabilities that is the perfect fit for any financial institution interested in reducing delinquency, increasing collections on charged-off loans and streamlining processes, such as default management, bankruptcy, foreclosure, repossession and fraud tracking.
In summary, the Collections module provides the following key functionalities:
View a complete history of an account's related financial information (this includes all financial transactions, payments, delinquency ratings, and credit bureau information)
Assign accounts for collection activity based on any or multiple attributes (the system allows the financial institution to define its own work process rather than forcing it into a specific approach)
Electronically route delinquent accounts to other users for action or review, such as forwarding for management approval
Use checklists, account statuses, and follow-up dates to manage productivity
Determine monthly delinquency ratings for accounts & download appropriate data to credit bureaus
Enter multiple promise-to-pay dates; the system places the account back into the collector's queue if any of the promises are broken
Define call action and result codes, with corresponding follow-up dates
Identify the time zone and best time to call
Enter, categorize and search unlimited comments and remarks; these fields are also time/date and user stamped, automatically
Automatically update delinquency information after backdated transactions are posted
Update and maintain "referred-party" information
Assign and view current and past vendor assignments to ensure timely follow-up
Interface with predictive dialers
Enter and maintain customers' bankruptcy information
Create bankruptcy sub-statuses (disposition codes) from which to track the process and build work queues
Enter and maintain foreclosure and repossession data
Perform estimated and actual loss analysis on the repossession /sale of the asset
Enter and maintain charge-off data in the deficiency module
Generate reports on collections, bankruptcy, foreclosure, and repossession activity for variance information, repossession assignments by vendor
Conduct the follow-up activity one time only if the customer has multiple accounts in various delinquency buckets.
CHECK OUT OUR LATEST VIDEO TO SEE THE  POWER OF THE BEST LOAN COLLECTIONS SOFTWARE YOU CAN BUY –