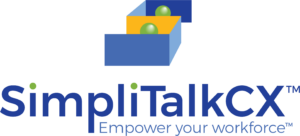 Workforce Management Software
SimpliTalkCX Built for Contact Centers
Workforce Managers have one of the toughest jobs in contact centers.  Without the right tools, that job is burdened with trying to cobble together reports, call logs, agent schedules, assumptions and more. For a blended contact center environment (Inbound/Outbound), the stakes are even higher.
Most of the traditional workforce management solutions developed for contact centers have a ton of bells and whistles users never use, are too complex to understand, and are extremely expensive.
This is where SimpliTalkCX comes in. Built for small to medium sized contact centers, budget friendly, and easy to use, SimpliTalkCX gives you the tools you need to precisely match your agents with the projected call demand.  
Request your personalized demo.
Workforce management software for small to mid-sized contact centers – in any industry.
Get set up in days. Save BIG compared to other workforce management software.
Generate ROI in less than 4 weeks instead of months.
Reduction in
abandoned calls
Improvement in workforce manager efficiency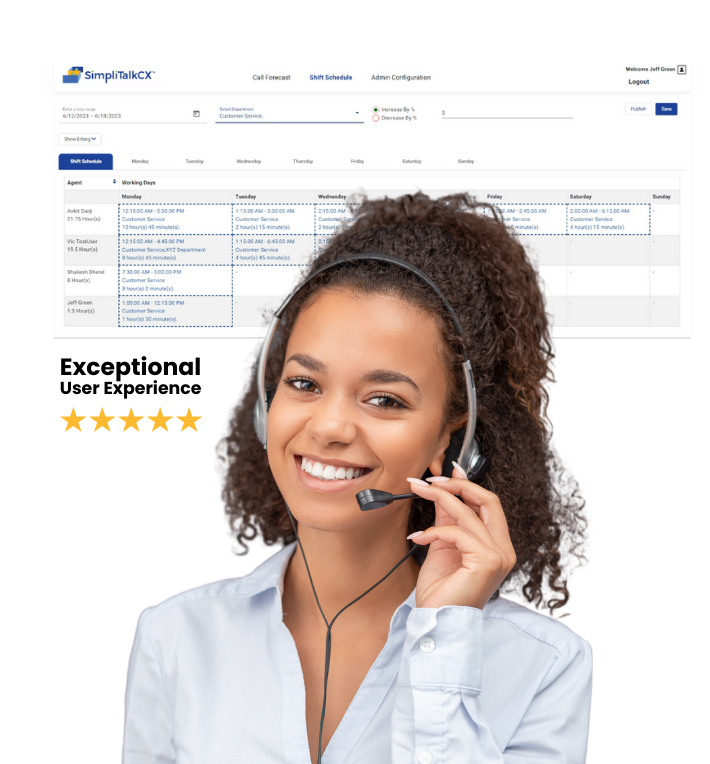 Say Goodbye to Spreadsheets.

Fast, efficient and cost-effective workforce management software.
DID YOU KNOW: 90% of customers want access to live voice agents and rate an "immediate" response as essential.
Workforce management software built with the right equation(s) for your growing business is a must-have piece of technology for contact centers. Customers are engaging with brands and organizations in a growing number of touchpoints, and a responsive omni-channel contact center is needed to deliver better customer and agent experiences, supported by improved operational efficiencies. SimpliTalkCX achieves this through its call center scheduling software – making data-driven forecasting and scheduling, labor optimization and strategic planning – easy to manage.
Talk to us about your existing contact center opportunities and explore SimpliTalkCX's call center scheduling software to deliver a superior customer experience.
Smart forecasting made easy

with Call Center Scheduling Software – stay ahead of the curve.
Eliminate guess work by leveraging historical data and trends to accurately determine future call volume support requirements. Build precise forecasts that put agents when and where required. SimpliTalkCX call center scheduling software is –
Simple and easy-to-use interface

API integration to telephony solution

Increase/decrease call projection daily/weekly

Plan strategical for proper support (holidays, new locations, marketing campaigns)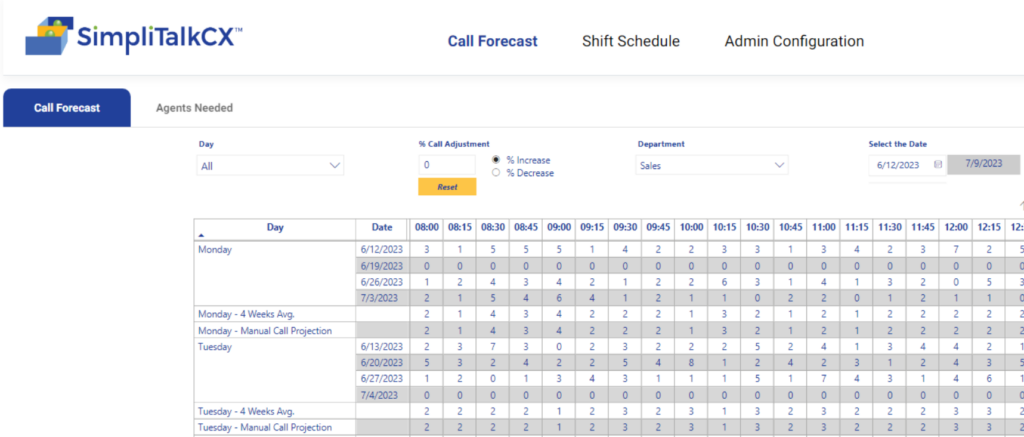 Staffing Optimization Screen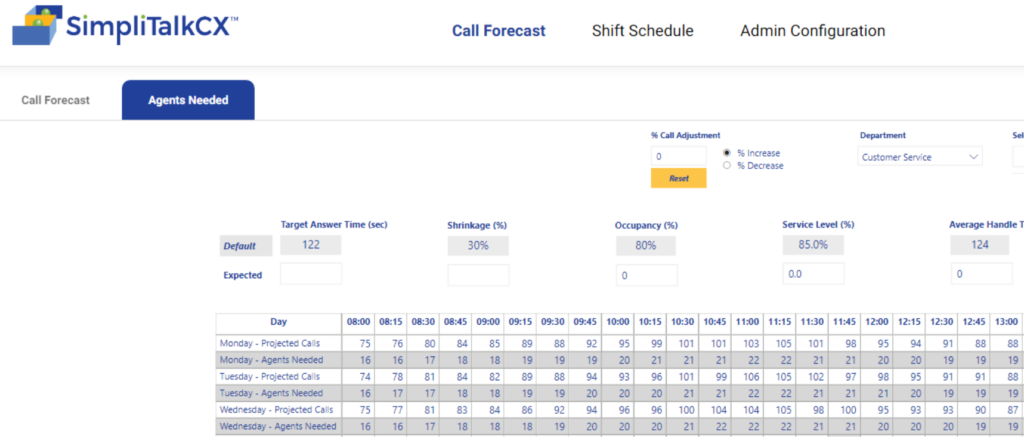 Call Center Scheduling Software

that delivers high customer and agent experiences.
SimpliTalkCX is the most easy-to-use workforce optimization software for small to mid-sized contact centers in any industry. Get the right agent – with the right skills, at the right time, in the right place – and build a better customer experience. Mitigate understaffing and overstaffing. Make lives easier, less stressful and simpler while keeping costs down.
Simple and easy-to-use interface

Call forecasting for each 15 minute interval throughout the week

Over/understaffed visualization

KPI inputs: target answer time, shrinkage, occupancy, service levels, average handle time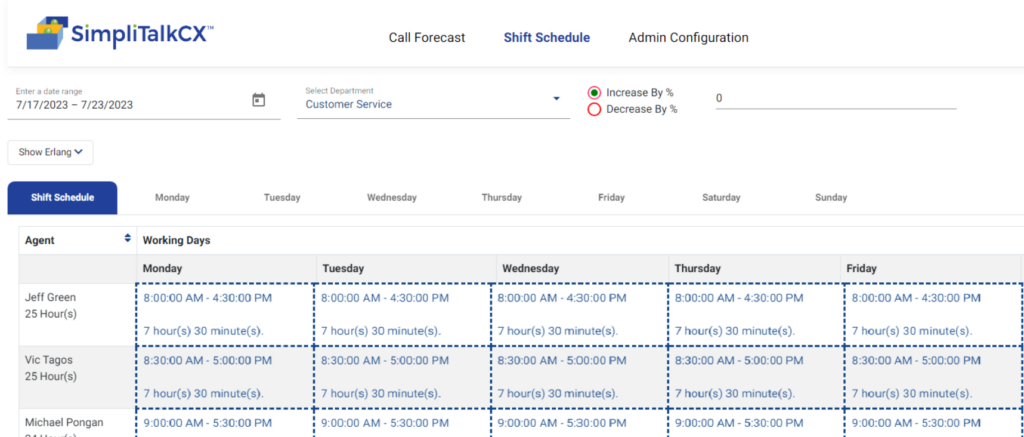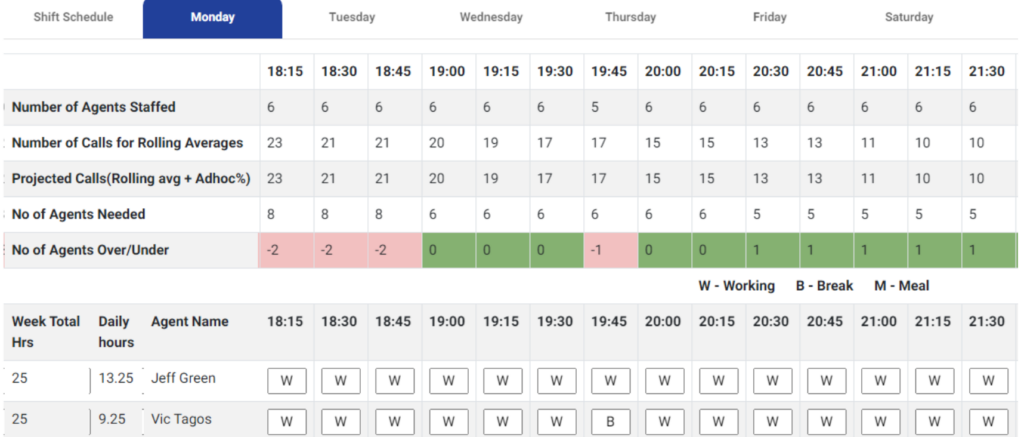 "This is our go-to-tool for forecasting, planning, scheduling, visualization to analyze trends every 15 minutes, and time management. Simple, clean and intuitive, it's easy to use and understand. Perfect for our small but
growing multi-location contact center operation."
Contact Center Director, FinTech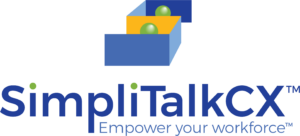 Workforce optimization software that makes it a win-win-win
for customers, agents and management.
Customers
Better quality experience
Faster response rates
Improved satisfaction
Agents
Less stress
Reduced burnout
Improved productivity
Management
Reduced abandoned calls
Peace of mind
improved ops efficiencies
Higher CSAT
Increased revenue
Reduced labor costs
Lower staff attrition