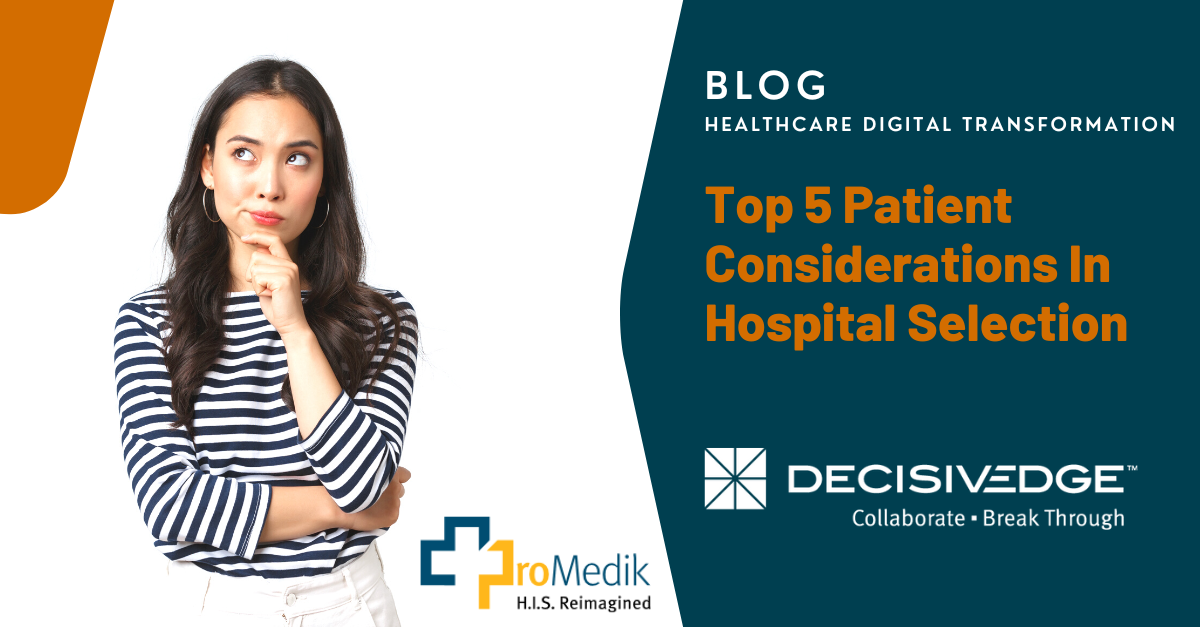 Patients look at hospitals as a place of hope – where they will be healed, treated and taken care of. They look for hospitals providing a holistic approach for treatment and where medical staff make them feel that they are the top priority. How hospitals operate and the resulting reputations created are critical.
Patients today are quite aware of the advances and the availability of better healthcare solutions. Hospitals today are adapting all the new tech for diagnosis, treatment and even after-care of the patients. They are leveraging tech to improve the overall patient experience. As a result, hospitals need to look at a wide variety of factors that influence patients and their hospital selection process.
Top 5 factors that influence patients for hospital selection
We have identified five key factors and criteria that impact the hospital selection process:
1. Efficiency + Consistency = Trust
Doctors, nurses and all the medical, as well as non-medical staff, are one of the topmost factors a patient considers. In a book based on doctor-patient dynamics called "Dynamics of Trust in Doctor-Patient Relationship", "trust" is a major contributing factor in the decision-making process for the patients. Having expert doctors, nurses and other staff that are experienced, compassionate, and committed to provide with the best for patients can be the first checkmark on this list. Maintaining consistency by delivering the best solutions to the patients efficiently can help build trust amongst patients.
Several reports have also suggested that hospital environments can impact the healing process of the patients. It has also been reported that a positive and healthy environment in the hospitals can aid with better patient satisfaction rate. That said, the environment in hospitals is greatly impacted by the management and how swiftly the staff can work. Investing in hospital information systems for the medical staff can manage workflows much more efficiently. Better planning and flow of tasks amongst the medical staff can help offer better and more consistent services, allowing medical staff to focus more on the patient's wellbeing.
2. Health care professionals armed with the right technology
Getting expert staff on board aided by the tools and information can make a huge difference in patient care. 69% of the healthcare workers feel stressed when they do not have the correct technology to ensure a smooth functioning hospital and timely care for patients.
Aiding your medical staff with digitized software and automations can help streamline workflows for the time consuming tasks such appointment scheduling, patient outreach communication and obtaining all critical patient information. The availability of the right tools and technology can improve operational efficiency and data accuracy.
A versatile hospital information system (HIS) is a solid investment as it can arm the healthcare professionals with more flexibility, save time and improve efficiency to better manage workflows. The newest HIS can offer advanced features such as appointment scheduling, drug dispensation, queue management and more.
3. Clarity in process and better management of patient expectations
It is rightly said that "The difference between something good and something great is the attention to detail". While a hospital might have a phenomenal infrastructure, all advanced facilities for treatment and even an expert staff, it is the attention to detail which can set the hospital apart.
Miscommunication, missing information, and errors in data collection all impact hospital operational efficiencies. For example, medical insurance claims and billings is one area that is highly impacted when things go awry. 514 million people in India have medical insurance which stands at almost 40% of the population of India. These patients often complain about the extended delay in the treatments, discharges and other such procedures at hospitals because of issues with communication, and missing or wrong information. These issues cause further delays due to errors with medical billing and mismanagement of the overall can negatively impact hospital reputation.
The transitions between the department, communication and task management, both internally and externally, can be vastly managed better with hospital information systems using a cloud-based platform for easy and secure access by any approved medical staff or third-party partner. Additional, hospital need to search for HIS that come equipped with comprehensive medical claim modules, adaptable and scalable to grow with the hospital and its growing services. Modules should also be able to be customizable and integrate easily with existing systems for real-time and accurate data.
4. Hospital accreditation is critical
Patients are always on the lookout to opt for the hospitals that are accredited. This accreditation acts like an assurance for patients that an accredited facility will offer the best of facilities and effective care. Hospitals with accreditation insures the basic level of quality and facilities needed for a satisfactory patient experience.
Accreditation is different in every country. For example, hospitals in India can be accredited by the National Accreditation Board for Health and Healthcare providers or NABH. Only 700 hospitals in India are accredited by NABH, which is equivalent to just 1% of the hospitals. This council judges the healthcare providers on more than 600 parameters. As NABH have stringent rules and regulations, hospitals that are accredited are often preferable over the ones that lack this approval as it influences the people for choice of the hospital. In order to win your patient's trust and have a first good impression it is exemplary to have an accreditation.
Parameters for accreditation are vast, but include the fiscal and operational evaluation of hospital operations. This is were HIS can help medical organization elevate not just overall patient care and the patient experience, but also build the bottom line and fiscal responsiveness. From helping to better manage labor resources, improve supply-chain with inventory modules, and improve collection and analysis of fiscal data, hospitals using HIS have the opportunity to output healthy patients and healthy profits – which helps toward achieving accreditation.
5. Focus on improving patient experience
Patients often look out for a relaxing experience in hospitals along with the best of healthcare services, quick assistance and expert medical staff. It includes managing their medication, treatment-follow ups, food arrangements and pleasant interactions with all the medical staff that are involved in their treatment and stay at the hospital. Focusing on their experience and journey as a whole while considering all the touchpoints can help deliver a better patient experience.
Offering them with quick, easy and hassle-free solutions at a given point can put them at ease and make them feel better. Following a patient-centric approach in hospitals can be a great way to foster alliances with patients. Working on these touchpoints individually can become challenging for the medical staff as it includes focusing on several processes. However, investing in comprehensive HIS can be of great help for the staff to map, analyze and improve the patient experience at hospital.
Key take-away: Hospitals that pivot digitally and use HIS will rank higher with patients
Today, healthcare needs automation and digitization more than ever before to reduce time, effort and cost, whilst reducing manual errors, giving medical staff the ability to focus more on patient care. While there are several piece-meal options, none are as versatile, comprehensive or scalable as a hospital information systems .
So what should hospitals look for in an HIS to ensure they get the best results with patients while providing the highest satisfaction levels of patient experience?
MODULAR: Purchase and use separate modules as stand-alone, or a complete end- to-end HIS solution.
SCALABLE: Grows as you expand your hospital system to multiple operating theatres, departments and hospital sites simultaneously.
QUEUE MANAGEMENT: Improve your hospital's queue and length-of-stay management.
PATIENT JOURNEY MAPPING: Automate tracking of patients from the start of their care, transfer between departments, to discharge.
ENABLE DOCTOR-PATIENT COMMUNICATION: Streamline appointments with real-time scheduling, SMS and email medical alerts.
DRUG DISPENSATION: Assist pharmacists in accurately managing inventory in support of a safe and ethical medication dispensing process.
OPTIMIZE OT USAGE: Track and make real-time modifications to a patient's operation
CONVENIENT PAYMENT OPTIONS: Assist patients through multiple payment options, allowing you to bill patients and insurance providers faster.
IMMIGRATION/VISA REQUIREMENTS: Issue medical certificates to help qualify patients for out-of-country needs (immigration, student, work).
DATA SECURITY: Enable clearly defined user roles, privileges and permission settings.
CUSTOMIZED REPORTS: From demographics, departmental & doctor records, to billing.
INVENTORY MANAGEMENT: Gain insight into inventory trends to better react to supply chain issues.
ProMedik Hospital Information System
This leading end-to-end hospital management solution offers an extensive range of features that can help with better management, improved workflow and speedy patient discharge. The platform is easy-to-use, intuitive and integrated which makes it an excellent tool for the staff and everyone working at the hospital.