For the second consecutive year, our North America team has hosted a group of summer interns. Our goal is to allow interns to learn about DecisivEdge Practice Areas while they gain hands on professional experience.
This summer, each of our four talented interns have added tremendous value in their own way!
Learn about them and their work below:
Meet Vishnu Joshi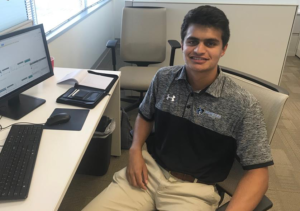 Vishnu is a MIS Intern working at our Newark, Delaware office. A rising sophomore at Johns Hopkins University, majoring in Computer Engineering and potentially Computer Science, Vishnu says he steered away from DecisivEdge's typical rotation program because of his specific interest in software development and building applications for business projects. Currently he's working on an application for CommonLine  to enable the reading of incorrectly or poorly formatted files and to recommend modifications of the format to make the file more easily readable.  
One of the main reasons working at DecisivEdge is such an enjoyable experience for Vishnu is the friendliness of the people – "It's nice to know everyone and be friends with them instead of just having the label of an Intern."
Through his experience at the Company he learned that the harder he works, the more energy he has to be productive. "It's the snowballing effect," he says, "try to give a 100% everyday and you'll surprise yourself with the results."
Meet Jacqueline Henry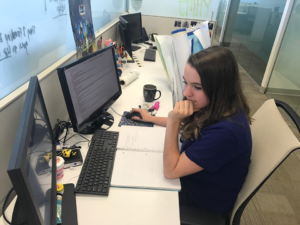 Jacqueline is a MIS Intern at the Newark office in Delaware. She is going into her fourth year at Temple University, with a major in Management Information Systems. Jacqueline has been focusing on workflows, data flows, writing client requirements and creating project plans. One of her most cherished experiences at the Company was being involved with DecisivEdge's S.T.E.M camp presentation at Talley Middle School. What Jacqueline appreciates about working at DecisivEdge is that she doesn't just get "busy work," but work that keeps her cognitively challenged.
Jacqueline's advice to interns is to avoid getting brainwashed by big brand names and flashy advertisements and to think of the benefits of working at a small, competitive company.  What she loves about DecisivEdge is how she can approach people from any department with her thoughts and concerns – "It's great. Everyone knows about everyone's work and they all have something useful to say."
Meet Ellora Kothare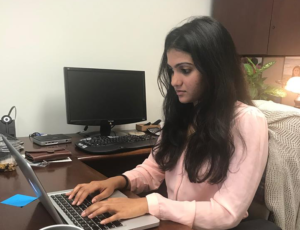 Ellora is a Marketing and Sales intern working from Toronto, Canada. She is going into her fourth year at University of Toronto, majoring in Psychology with minors in English and Creative Expression and Society. Ellora's work includes writing and editing internal and external articles for the company, generating social media content, and working on the DecisivEdge website. Her most recent article covers the Company's second annual S.T.E.M presentation at Talley Middle School. What she treasures most about DecisivEdge is its openness to different ideas, and the opportunity to learn and work on projects simultaneously.
Her advice to interns is, "Don't be afraid to apply your knowledge and skill in ways you haven't done so before – it's where all the learning happens."
Meet Noah Henry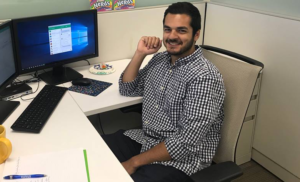 Noah recently graduated from Drexel University's LeBow College of Business with a degree in Management Information Systems and Legal Studies. He joined the rotation internship program to learn about DecisivEdge and to determine which specific area in the Company best aligns with his skills and interests before moving into his full-time role with us.  His primary focus has been building training material for the Oracle OFSLL system.  In addition, he has also been working on bug testing and quality assurance. Even though it's only Noah's first few weeks at the company, he says he feels a strong sense of belonging here and views the Company as one highly motivated team.
Noah's advice to a new intern is to be a problem-solver, and to not be afraid to ask for help. He says, "Be ready to challenge yourself. When you go to a senior for help with a problem, take some ideas for a solution with you."  Good advice Noah.
To learn more about careers with DecisivEdge, click here.