Partner with a Top Mobile Application Development Company
DecisivEdge is recognized as one of the foremost leaders in mobile application development in North America. In a time of ever-increasing demand for mobile apps, we work with enterprises and startups to fine-tune their mobile application strategies. If you're an enterprise, our experience across various industries can assist you in redefining your scope or scaling your business. And if you're a startup, we're ready to be your innovation partner and bring your ideas to life. Our experts work with you from conceptualizing to development and testing to execution, and provide custom app development services for Android, iOS and Artificial Intelligence.
We understand that hiring the right team is critical to the success of your product and your vision. A combination of onshore and offshore app developers will help you scale quickly, while staying on budget. And, our support doesn't end once your mobile app is built – we go above and beyond deployment to assist in maintenance, marketing and even selling your mobile application.
Our App Dev Process Is Your Winning Formula
Mobile app development is an ongoing process and continues well after initial launch, into receiving customer feedback, building out additional functions and the overall growth trajectory of your organization. Over the years, DecisivEdge has provided mobile application development services to organizations across the financial services, healthcare and marine industries. We take an agile approach to ensure quick time-to-market, while also maintaining a rigorous quality assurance process.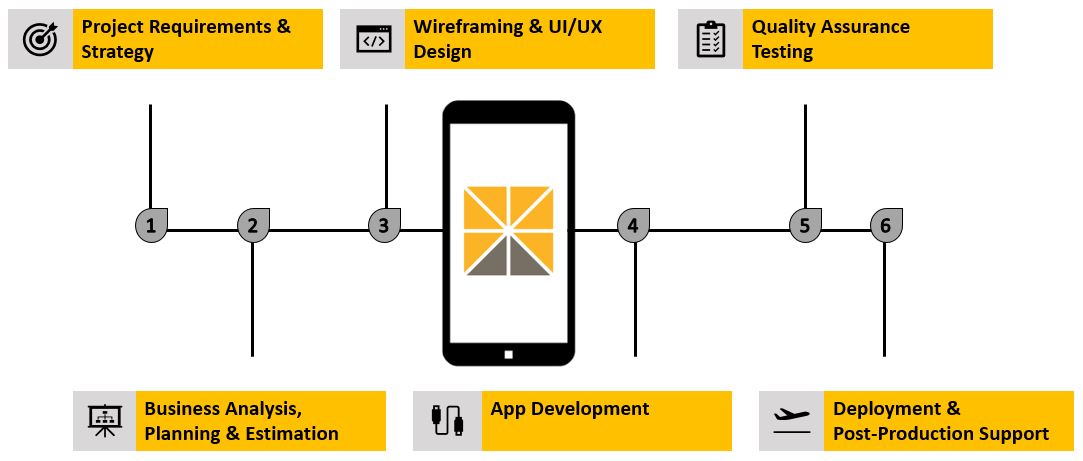 Project Requirements & Strategy
Project Requirements & Strategy
Our mobile app development process starts with understanding your vision and defining the strategy behind taking your app to market. It's important to address this early on since there may be a difference between app-specific impacts and your overall business/mobile strategy. We determine requirements,  identify the app's target audience, research the competition and establish the app's goals and primary functions.
Business Analysis, Planning & Estimations
Business Analysis, Planning & Estimations
Here's where your app truly begins to take shape. Our DevOps and engineering teams define use cases and capture functional requirements. Once they've got that down pat, we prioritize your mobile app requirements and group them into "milestones". We then move to identify the skills needed to develop your app and bring in the right people that will eventually form your team. They will work with you to evaluate various technology stacks and develop a product roadmap.
Wireframing & UI/UX Design
Wireframing & UI/UX Design
Seamless user experiences are at the heart of everything we do. To aid in early adoption and see users through engagement, we make sure your mobile app is as intuitive and user-friendly as possible. We start with digital sketches (or, wireframes) of your app and develop renderings of your app's visual design. We work our way up to creating prototypes – which are helpful in simulating the user experience and drawing out your team's workflows.
App Development
A mobile app is generally divided into 3 parts: back-end technology, API's and front or user-facing output. Back-end technology includes the server's database and objects that will act as supporting functions for your app. The API's determine how the back-end and the actual app communicate. And, the front-end is what the end user ultimately sees. With platforms and devices constantly evolving, we know how critical it is to take an agile approach to ensure the success of your mobile app.
Quality Assurance Testing
Quality Assurance Testing
As each development "milestone" is completed, it is passed on to the testing team for reliability and quality assurance. We use test case scenarios to evaluate software flows and track any fixes from where we need to re-test the app. We perform the following tests to deliver a quality mobile app:
Performance & functional testing
User experience testing
Device & security testing
Deployment & Post-Production Support
Deployment & Post-Production Support
Watch your mobile app come to life. We submit your application to the appropriate store (iOS, Android or otherwise), monitor its performance against benchmarks and KPI's, check user-reported issues and check any crash reports/incidents. Encourage your end users to submit their feedback, so we can improve your app's user experience. Periodic security check support is also provided.
Why DecisivEdge For Mobile Application Development?
A strong understanding of primary business principles, and a track record of successfully building applications that matter.

A highly skilled, global mobile app development and support team that offers you flexible pricing, follow-the-sun development and maintenance. Our teams are based in USA, India and Canada.

Our resource model allows you to hire mobile application developers from our pool of talented professionals. This enables you to provide inputs and requirements for our tech team to then set up.
We are uniquely positioned to maximize speed to market while minimizing project risk.

An experienced marketing and sales team that knows how to effectively build brand awareness, and channel potential customers into the sales funnel.

Unparalleled customer service before, during and after the development process to ensure optimization support at every stage of the product life cycle.