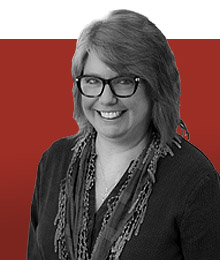 Newark, Delaware (January 31, 2018) – DecisivEdge™, LLC, a leading business consulting and technology services company is expanded its executive leadership team by hiring Samantha (Sam) Wallace to lead the company's Global Talent Optimization activities.
In her role at DecisivEdge, Sam is responsible for developing and marketing the company's "Employer" brand. She will lead the effort to create the best environment for the people of the company, globally.  She will design, manage and implement innovative processes for talent development supported by initiatives that attract, engage and retain a high performing team of talented professionals. Sam will also work with the executive team to ensure that the company culture is strengthened as the company grows.
Sam brings more than 25 years of experience in executive leadership roles.  Prior to joining DecisivEdge, Sam held a variety of roles at MBNA/Bank of America and Connexions Loyalty, including marketing acquisition, client management, loyalty marketing and credit card network management.
Sam holds a Bachelor of Science Degree in Foreign Service from Georgetown University.
"Our company is growing rapidly both in terms of people count as well as in terms of our service offerings and to continue to deliver on our value promise to our clients, we are investing heavily in the development of our people" said Navroze Eduljee, CEO of DecisivEdge.  "Sam possesses the ability to work across our organization and drive significant improvements in our talent acquisition, development and retention capabilities," said Eduljee.
DecisivEdge is focused on being the Employer of Choice for a broad spectrum of technology professionals who can expect to be rewarded for their hard work and dedication to the company and our clients.  Recently, the company was recognized as a 2017 Top Workplaces by The News Journal, demonstrating the confidence its employees have on the health and direction of the company today and into the future.
About DecisivEdge
DecisivEdge is a business consulting and technology services firm.  We use industry insight, technology, and analytics to solve our client's critical business challenges. With offices in North America and Asia, our global team helps clients across the world find, develop, and sustain the competitive advantage.  We offer a tightly knit suite of solutions and services designed to optimize processes, mitigate risk, and increase the value of your business.
When you need a powerful advantage in your market, let DecisivEdge drive you to distinction. We welcome the opportunity to learn about your unique business challenges.