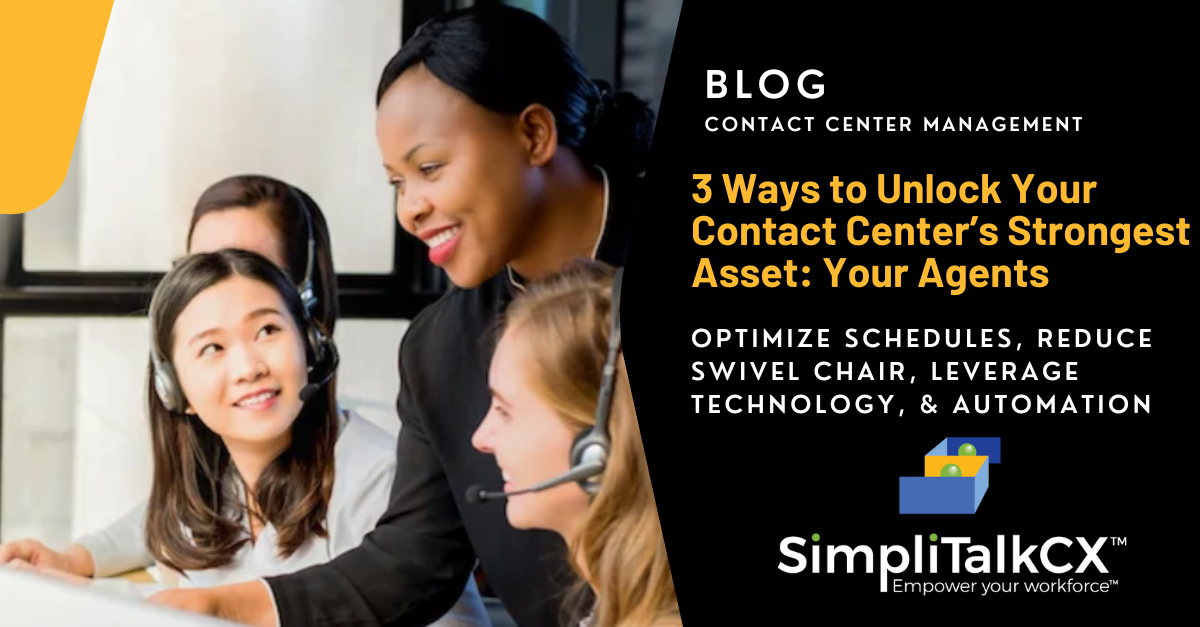 At the heart of every contact center are its agents— the frontline heroes who tirelessly handle customer inquiries, resolve issues, and deliver a memorable customer experience.
These agents have a tough job, often dealing with customers that are upset and frustrated, and needing help with a variety of issues. However, providing customers with the right help can also be incredibly rewarding. Well-equipped customer support agents are more efficient and effective, meaning customers are more satisfied.
Managing agents can be a delicate balancing act. Contact center directors often face formidable challenges – agent attrition, agent burnout, and limited resources – which can impede the ability to provide optimal support.
The loss of even a single agent can strain remaining team members and disrupt operations, juggling roles and increase agent stress levels.
DID YOU KNOW: Contact centers face a 45% agent attrition rate but with the right WFM solution, this rate can be reduced significantly.
DecisivEdge is a leading contact center consulting company, passionate about unlocking the true potential of contact center agents. With many years of combined experience in delivering tailored solutions for our clients, our mission is to elevate CX operational capabilities through best-in-class technology solutions, analytics, and data-driven strategies.
What are the 3 key strategies to support and empower agents at your contact center
Optimize Agent Schedules with Workforce Management Software

Reduce Agent Swivel Chair: Integrate and Streamline

Leveraging Technology and Automation
1. Optimize Agent Schedules with Workforce Management Software
Misalignment between agent scheduling and inbound call volumes can have detrimental effects on both agent well-being and contact center performance, ultimately impacting the customer experience. This mismatch can lead to a variety of challenges including increased agent burnout and attrition rates, which fosters a subpar customer experience. Implementing a WFM solution can be essential in addressing these challenges.
In fact, WFM solutions can reduce attrition in contact centers by up to 10%.
Key features and benefits of WFM Software:
WFM software provides an array of features that optimize scheduling efficiency and elevate agent productivity. If you are new to WFM software, it might seem overwhelming at first to explore these functionalities. However, understanding and embracing these key features will significantly contribute to the success of your contact center operations.
The essential features you should prioritize include:
Forecasting and Planning
WFM software utilizes advanced algorithms and predictive analytics to forecast inbound call volumes, identify trends, and optimize staffing requirements. By accurately predicting call volumes and agent requirements, contact centers can ensure they have the right number of agents scheduled at the right times, improving service level goals and customer experiences.
Dynamic Scheduling
With dynamic scheduling capabilities, supervisors can easily create, adjust, and optimize agent schedules to maximize resource utilization. This ensures optimal agent utilization, leading to a more fulfilling work environment and improved agent performance.
Adherence Monitoring
WFM software allows contact center managers to monitor agent adherence to schedules, ensuring agents are following their assigned shifts and breaks. This helps maintain a consistent service level and supports better workforce management.
Performance Analytics and Reporting
Comprehensive performance analytics and reporting tools provide valuable insights into key metrics, such as average handle time (AHT), service level, shrinkage, and occupancy. By analyzing historical data and identifying trends, contact center managers can make data-driven decisions to better predict contact loads.
Integration with Contact Center Technologies
WFM software should seamlessly integrate with various contact center technologies, including telephony, customer relationship management (CRM) solutions, and payroll. This integration streamlines data flow, reduces manual work in generating reports and ensures the accuracy and integrity of information.
SimpliTalkCX WFM Software by DecisivEdge offers an array of features that optimize scheduling efficiency and elevate agent productivity.
When implemented optimally WFM software can yield a 35% decrease in your abandoned call rate
Continuously monitor and evaluate schedule performance, adjusting as needed. Gather feedback from agents and track key performance metrics such as average handle time, agent occupancy, and call abandonment rates. These metrics provide valuable insights to identify areas for improvement and optimize scheduling efficiency.
By closely monitoring these and other performance indicators, you can identify bottlenecks, inefficiencies, or opportunities to enhance agent productivity and satisfaction.
2. Reduce Agent Swivel Chair: Integrate and Streamline
With so many software applications handling various pieces of your business, swivel chair is a huge problem for many businesses who have contact centers.
Swivel chair refers to switching between multiple systems or applications, often without integration, resulting in inefficiencies and a fragmented user experience.
We see it every day, across all different industries. Agents must manually input customer information, and search for data across disparate systems.
On average, agents spend 14% of their time looking for information they need to do their jobs which detracts from their ability to address complex tasks and hinders their focus on delivering exceptional service.
Juggling various systems for telephony, customer relationship management (CRM), Microsoft team, and other industry specific 3rd party solutions can lead to long hold times, frustrated customers and frustrated agents. Implementing solutions to streamline systems is vital for operational efficiency and agent performance.
Here are some key ways to achieve this:
Single sign-on (SSO) simplifies the login process for agents by enabling them to access multiple applications with a single set of credentials, promoting a seamless and uninterrupted user experience for both agents and customers.
Integrated telephony solutions facilitate efficient call routing, ensuring that customers are directed to the most appropriate agent based on their specific needs – reducing call transfers and improving first-call resolution rates.
Integrated CRM systems give agents a holistic view of customer details, leading to personalized interactions – enhancing both agent productivity and customer satisfaction. DecisivEdge has extensive experience with integrating contact center solutions with the Salesforce platform.
Read about our recent Salesforce enhancement that improved the speed and ease of inbound patient transportation services for a Top 5 behavioral health organization that focuses on drug and alcohol addiction.
Learn how our UI/UX improvements transformed Salesforce interface and helped reset a contact center to streamline patient admissions and reduce disorder.
3. Leveraging Technology and Automation
81% of companies acknowledge that agents must shift focus to more complex work in today's increasingly AI-driven world.
Contact centers can greatly benefit from the power of new AI technologies, such as Intelligent Virtual Assistants (IVAs), Agent Assist Solutions, Workflow and Quality Assurance Automation.
Let's explore how these AI tools support and enhance agents' capabilities in small contact centers.
Intelligent Virtual Agents (IVA) are AI-powered chatbots that offer instant, personalized assistance to customers through natural language processing and machine learning.
They provide 24/7 support, ensuring quick issue resolution and consistency in responses. IVAs enable cost savings by handling routine inquiries and reducing the need for a large number of human agents. They also offer scalability, allowing contact centers to handle sudden surges without additional hiring.
More than that, IVAs generate insights from customer interactions, enabling contact centers to identify trends, improve processes, and enhance overall customer experience.
Agent Assist is an AI tool offering real-time support to agents during customer interactions. It provides guidance, suggesting relevant information and step-by-step assistance to help agents deliver accurate resolutions quickly.
This ensures customers receive quicker and more accurate responses. For the business, Agent Assist enhances agent productivity, reduces training costs, and helps optimize every contact.
Workflow Automation optimizes contact center operations by automating manual tasks and streamlining processes. This results in improved productivity and faster issue resolution for customers, as agents can focus on more complex inquiries.
It reduces operational costs, enhances compliance, and provides valuable data-driven insights for better decision-making, fostering exceptional customer experiences and boosting business success.
Quality Assurance Automation employs AI to automatically evaluate customer interactions and agent performance, ensuring consistent and unbiased assessments. It delivers more standardized and higher-quality interactions for customers, leading to increased satisfaction and loyalty.
Simultaneously, contact centers benefit from a streamlined evaluation process that saves valuable time and resources while providing insights for targeted agent training and process improvement.
Leveraging AI tools can yield remarkable advantages for your contact center, agents, and customers. These tools not only streamline operations by automating routine tasks but also enhance customer self-service options, resulting in an elevated experience and increased satisfaction.
By leveraging AI, your contact center can deliver exceptional customer service, improve overall performance, and cultivate stronger relationships with customers.
Discover how DecisivEdge employed Five9 Inbound Intelligent Virtual Agent (IVA) to a growing behavioral health contact center, bringing the human touch to IVR.
Read how DecisivEdge deployed Five9 Outbound Intelligent Virtual Agent (IVA) for a behavioral health organization to help patients show up for scheduled appointments.
Conclusion
Optimizing schedules and resource allocation improves agent utilization and the customer experience.
Integrating telephony and CRM systems enhances agent efficiency by eliminating manual tasks and providing agents with a unified interface. Cloud-based platforms offer cost-effective solutions and sets up for next-gen technology advancements.
Leveraging AI technology like Intelligent Virtual Assistants (IVAs), Agent Assist, Workflow and Quality Assurance Automation handles routine tasks, offers self-service options for customers, provides real-time assistance to agents, and enables continuous learning for improved performance.
By implementing these strategies, contact centers can better unlock the potential of their greatest asset – the agent.