Streamline the

Loan and Lease Management Process
The Application Portal for loan and lease origination is designed to increase productivity by offering a slick borrower experience without sacrificing data integrity with the loan origination system. The latest product from DecisivEdge allows lenders to focus on what's important; closing loans faster while providing an exceptional customer experience. With Application Portal for DecisivEdge, the branding and prominence associated with your current digital and application process never miss a beat as they merge your maturing business objectives with digital demands of borrowers for speed, automation and convenience.
Digital Lending Made Simple
For Lenders
Lenders can now leverage a sleek and stylish UI that is customizable to match their existing digital presence.
Application Portal brings white-label customization to ensure borrowers get a look and feel unique to every Lender.
The Application Portal is designed to enhance the borrower experience by providing lenders with exceptional automation tools.
For Borrowers
Borrowers can expect a mobile-ready loan application with pre-fill capabilities and a direct line to tracking the status of their application.
The solution included a flexible forms engine that allowed the customer to configure the lease application data collection process.
Borrowers can browse programs and rates that match their unique criteria.
User-Friendly Application Portal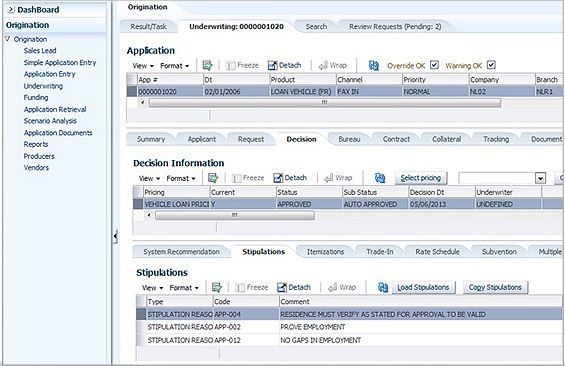 With speed and responsiveness as top priorities, our design considers all major browsers and devices to ensure maximal convenience and functionality

Integrates with the Oracle Financial Services Lending and Leasing application and other origination and servicing platforms

Offers freedom and control to customize application themes and wording. Application configuration is made easy through our tool's built-in white-label editor

Track the mortgage application status, upload documents, complete task lists and communicate with the lender
FUNCTIONALITIES
Create customer internal users and assign roles

Configure new contractors and corresponding users

Search existing applications and allow the user to pick-up where the application

Enter lease applications and complete the lease process if approved

E-sign the corresponding Lease Documents

Enter and Schedule first and on-going payments

Upload installation documents and enter serial numbers as required for Warranty purposes

Upload annual maintenance documents for each lease